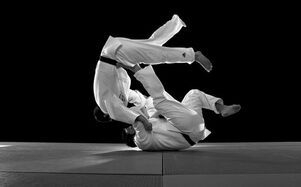 Tomoe nage, also called a stomach throw, circular throw, or monkey flip, is a taijutsu technique taught by Sensei Kyuzo at the Niten Ichi Ryū. A variation of this throw is yoko tomoe nage, or side circle throw. To execute tomoe nage, the tori (executor of technique) grips the uke (receiver of technique) high in the air and allows himself to, as in a backward somersault, fall. This causes the uke to lose balance. The tori then forcefully places his foot on the uke's stomach—the uke is above him when he rolls onto his back, which leads to the uke being flipped over him and ending up on the floor on his own back.
History
In a randori match in taijutsu class against Jack, Kazuki used the tomoe nage. Kazuki pulled Jack on top of him, and at the same time thrust his foot into Jack's stomach, flipping him over his head.
In taijutsu class, Emi used the tomoe nage against Hiroto in Last Samurai Standing. She used the sacrificial stomach throw to get him out, while eliminating herself from the competition.