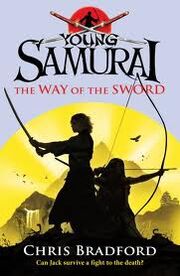 The Way of the Sword
is the second book in the
Young Samurai Series by
Chris Bradford
.
Synopsis
Jack Fletcher is Young Samurai
Japan, 1612
One year of training in samurai school and Jack is in real trouble…
He's struggling to prepare for the Circle of Three, an ancient ritual that tests courage, skill and spirit to the limit. At the same time, Jack is caught in a running battle with fellow student Kazuki and his gang.
But these are the least of Jack's problems. He knows his deadly rival – the ninja Dragon Eye – could strike at any moment. Jack possesses the very thing he will kill for.
Can Jack master the Way of the Sword in time to survive a fight to the death?
"A fantastic adventure that floors the reader on page one and keeps them there until the end."
-Eoin Colfer, Author of the bestselling Artemis Fowl series.
Summary
Characters
Gallery
Ad blocker interference detected!
Wikia is a free-to-use site that makes money from advertising. We have a modified experience for viewers using ad blockers

Wikia is not accessible if you've made further modifications. Remove the custom ad blocker rule(s) and the page will load as expected.