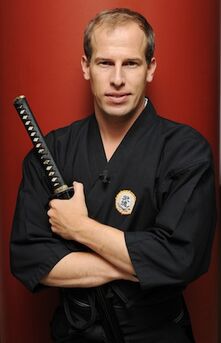 Chris Bradford
is the author of the
Young Samurai series
.
Biography
Aside from having a black belt, he is trained in judo, karate, kickboxing, and samurai swordmanship. His favourite food is sushi because its very healthy.
Before writing the young samurai series Chris was a professional musician and song writer. He lives in England (where Jack is from!) You can learn more about him in www.chrisbradford.co.uk
Chris Bradford is also and acomplished muscian and has claimed many musical and writing awards.
Bibliography
Other Books
Bodyguard Series (May 2013)
Chris has mentioned that his new series would be akin to Young Samurai in the modern era.
Websites
Ad blocker interference detected!
Wikia is a free-to-use site that makes money from advertising. We have a modified experience for viewers using ad blockers

Wikia is not accessible if you've made further modifications. Remove the custom ad blocker rule(s) and the page will load as expected.