Bushido, meaning the "Way of the Warrior," is a Japanese code of conduct similar to the concept of chivalry. Samurai warriors were meant to adhere to the seven moral principles in their martial arts training and in their day-to-day lives.
Virtue 1: Gi - Rectitude

Gi is the ability to make the right decision with moral confidence and to be fair and equal towards all people no matter what colour, race, gender or age.

Virtue 2: Yu - Courage

Yu is the ability to handle any situation with valour and confidence
Virtue 3: Jin - Benevolence

Jin is a combination of compassion and generosity. This virtue works together with Gi and discourages samurai from using their skills arrogantly or for domination

Virtue 4: Rei - Respect

Rei is a matter of courtesy and proper behaviour towards other. This virtue means to have respect for all.
Virtue 5: Makoto - Honesty

Makoto is about being honest to oneself as much as to others. It means acting in ways that are morally right and always doing things to the best of your ability
Virtue 6: Meiyo - Honour
Meiyo is sought with positive attitude in mind, but will only follow with correct behaviour. Success is an honourable goal to strive for.
Virtue 7: Chungi - Loyalty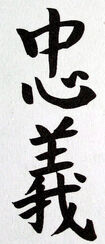 Chungi is the foundation of all virtues; without dedication and loyalty to the task at hand and to one another, one cannot hope to achieve the desired outcome.
source: Young samurai, Way of the Sword, p 361-362
Ad blocker interference detected!
Wikia is a free-to-use site that makes money from advertising. We have a modified experience for viewers using ad blockers

Wikia is not accessible if you've made further modifications. Remove the custom ad blocker rule(s) and the page will load as expected.